Skip to content
There's nothing worse than having all your hard work of putting an event together fall flat due to another company just pitching how great they are with a presentation filled with boring, unloveable, meme reliant speaker.
Let's change that.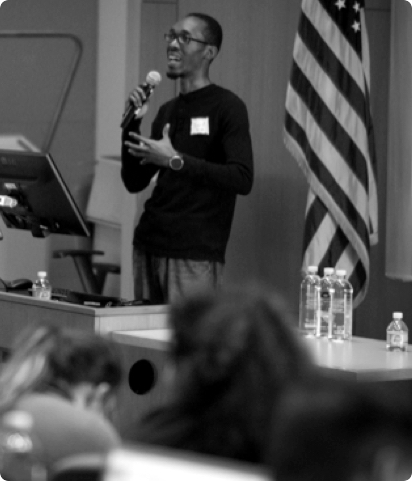 Keynotes, Q&A, Fireside Chats, Interviews, and Workshops. We've got you covered.
We speak on topics related to design, team building, skills development, branding, social impact, productivity, and leadership.
Based on your organization's specific needs, we tailor what's presented. None of that recycled product pitch stuff.
Some of our most requested topics include the following:
Essential Loveable Brands – An empathy driven, design thinking approach to building a sustainable, impact-driven brand.
The Supercharged User Journey: Rethinking the Customer Journey Experience – Leveraging service design for digital marketing in new connection economy.
Keep in mind that we can also present these as a keynote or a workshop and in some cases a half-day or a full-day seminar internal presentation version.
Prompt response to your email and/or telephone correspondence.
Personal consultation prior to your event, so we can better understand how to best serve you and your audience.
Promotion of your event on our  social media channels and listing on our events page. (This assumes that your event is open to the public and you want additional visibility for it.)
A custom resource page, exclusively created for your attendees. It will include the slides we may have mentioned or used in the presentation, along with links to books, articles, and other resources we believe will be helpful.
Immediate followup after the event for feedback. (We also want to know how you think we can improve.)
What others have to say
Angel has been a pleasure to work with and supplies a great final product. We appreciate the professionalism that Sevenality always brings!
Carmen - The Flair Exchange
Working with Sevenality was an absolute pleasure. David and Angelica are incredibly professional. I loved that they understand the design element of the project and then are able to translate that into a finished product with their technical expertise. Their work ethic, combined with their expertise and professionalism made working with Sevenality a 100% win!
Jenny K. - Ruby Red Cleaning
I'm absolutely thrilled with the graphics and designs that I've received from David and Sevenality. Within days of adding their work to my website platforms, my sales increased by 15%! It's led to an extra $5,000 in revenue.
I've been told my branding is MUCH more professional and it's already lead to new clients. I HIGHLY recommend you hire Sevenality because they are worth every single penny.
Kimanzi Constable
David and Angelica Yarde have passionately devoted themselves to our web presence. They overhauled our social media presence and integrated all aspects of our ministry together.
Celebration Seventh Day Adventist Church
The Next Step
Thanks for considering what we have to offer to your organization, event or learning experience. You can take the next step by checking our availability.